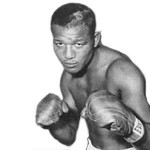 April 12, 1989 Sugar Ray Robinson, hall of fame boxer, died.
Born Walker Smith, Jr. on May 3, 1921 in Detroit, Michigan, Robinson began boxing at the age of 14 and he finished his amateur career with a record of 85 wins and no losses. Robinson made this professional debut in 1940 but his career was interrupted for 15 months by a stint in the United States Army.
After being honorably discharged from the army in 1944, Robinson won his first boxing title in 1946 when he won the world Welterweight Championship. Over his career, Robinson won the Middleweight Boxing Championship five times and retired in 1965 with a record of 175 wins, 19 losses and 6 draws. He was twice named Fighter of the Year, in 1942 and 1951, and in 1997 Ring Magazine named him Fighter of the Decade for the 1950s.
Robinson was posthumously inducted into the International Boxing Hall of Fame in 1990. "Pound for Pound: A Biography of Sugar Ray Robinson" was published in 2005.
---