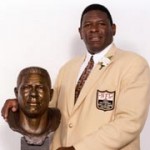 May 27, 1954 Jackie Ray Slater, hall of fame football player, was born in Jackson, Mississippi.
Slater played college football at Jackson State University. He was selected by the Los Angeles Rams in the 1976 NFL Draft and played his entire 20 season professional career with them, making him the first player to play 20 seasons for one team.
Slater was a seven-time Pro Bowl selection and in 1996 was selected for the Bart Starr Award which is awarded annually to the NFL player who best exemplifies outstanding character and leadership in the home, on the field, and in the community. Slater retired in 1995 and in 2001 was inducted into the Pro Football Hall of Fame. He is currently an offensive line coach at Saddleback College.
---