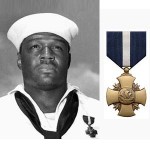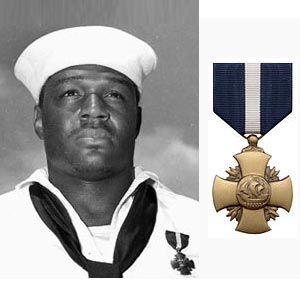 May 27, 1942 Doris "Dorie" Miller was awarded the Navy Cross, the first African American to receive it, for his extraordinary courage in battle.
Miller was born October 12, 1919 in Waco, Texas and enlisted in the United States Navy in 1939. On December 7, 1941, he was serving as a cook on the USS West Virginia in Pearl Harbor when it was attacked by the Japanese. Although he had no anti-aircraft gun training, Miller took control of one and fired until the gun ran out of ammunition.
In recognition of his actions, he was awarded the Navy Cross. Miller died on November 24, 1943 while serving on the USS Liscome Bay which was hit by a Japanese torpedo and sank. On June 30, 1973, the USS Miller was commissioned in his honor. Also, a number of schools, streets, and parks are named in his honor. Miller's story is told in "A Man Named Doris," published in 2003.
---