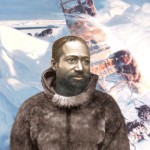 March 9th, 1955 Matthew Alexander Henson, explorer, died.
Henson was born August 8, 1866 in Charles County, Maryland. At the age of 12, he went to sea as a cabin boy and sailed around the world over the next several years. In 1887, he met Commander Robert Peary who recruited him as a colleague and they made many expeditions, including most famously their 1909 expedition to the North Pole. Although Peary received many honors, Henson was largely ignored and spent most of the next 30 years working as a clerk in New York.
In 1944, Congress belatedly awarded Henson a duplicate of the silver medal awarded to Peary. Henson authored "A Negro Explorer at the North Pole" in 1912 about his arctic exploration and an autobiography, "Dark Companion," in 1947. In 1986, the United States Postal Service issued a commemorative postage stamp in honor of Henson and Peary. In 1996, the United States Navy commissioned the USNS Henson in his honor and in 2000 the National Geographic Society awarded its most prestigious medal, the Hubbard Medal, to Henson posthumously.
The Matthew Henson Earth Conservation Center in Washington, D. C. is named for him as well as several schools in the state of Maryland. Henson's story was told in the 1988 made-for- television movie "Glory & Honor."