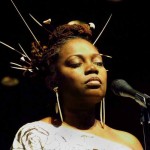 April 23, 1999 Melba Doretta Liston, jazz trombonist, composer and arranger, died.
Liston was born January 13, 1926 in Kansas City, Missouri but raised in Los Angeles, California. In 1943, she joined the big band led by Gerald Wilson and during the 1940s she played with Dexter Gordon, Dizzy Gillespie, Count Basie, and Billie Holliday. In 1950, she gave up playing and took an administrative job with the Los Angeles Board of Education.
In 1956, Liston rejoined Gillespie for a United States State Department sponsored tour. Liston recorded "Melba and Her Bones," her only recording as leader, in 1958. In 1961, Liston became a freelance arranger, collaborating with Randy Weston, Milt Jackson, Clark Terry, and many other artists. From 1973 to 1979, Liston lived in Jamaica and taught at the Jamaica School of Music. She was forced to give up playing in 1985 after a stroke left her partially paralyzed but she continued to arrange music.
In 1987, Liston was designated a NEA Jazz Master by the National Endowment for the Arts, the highest honor in jazz. In 1993, the International Women's Brass Conference honored her as a brasswoman pioneer.
---