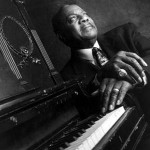 April 13, 2005 Johnnie Clyde Johnson, blues piano player, died.
Johnson was born July 8, 1924 in Fairmont, West Virginia and began playing the piano at the age of four. He joined the United States Marine Corp during World War II and played in the all serviceman jazz orchestra. Johnson moved to St. Louis in 1952 and put together a jazz and blues group that eventually included Chuck Berry.
Over the next twenty years the two collaborated on many of Berry's songs, including "School Days" (1957), "Carol" (1958), "Johnny B. Goode" (1958), and "Nadine" (1964). Johnson and Berry played and toured together until 1973. In 1987, Johnson recorded his first solo album, "Blue Hand Johnnie," and in 1999 his autobiography, "Father of Rock and Roll: The Story of Johnnie B. Goode Johnson," was published. Johnson was inducted into the Rhythm and Blues Foundation Hall of Fame in 2000 and into the Rock and Roll Hall of Fame in 2001. The Johnnie Johnson Blues & Jazz Festival is held annually in Fairmont in his memory.