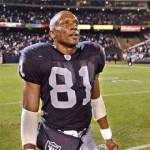 July 22, 1966 Timothy Donell Brown, former professional football player, was born in Dallas, Texas.
Brown played college football at Notre Dame from 1984 to 1987 and was an All-American twice. In 1987, he won the Heisman Trophy as the most outstanding player in college football, becoming the first wide receiver to win the award.
Brown was selected by the Los Angeles Raiders in the 1988 NFL Draft. Over his 16 season career, he was a 9-time Pro Bowl selection. Brown retired in 2004 and in 2009 was inducted into the College Football Hall of Fame. Brown is currently working on starting a NASCAR racing team as part of their Drive for Diversity program.