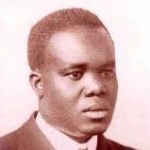 November 2, 1967 Chandler Owen, writer, editor and co-founder of the Messenger, died.
Owen was born April 5, 1889 in Warrenton, North Carolina. After graduating from Virginia Union University in 1913, he moved to New York City to become a fellow of the National Urban League. In 1917, Owen and A. Philip Randolph founded the Messenger, which published political commentary, advocacy of trade unionism, and literature of the New Negro Movement. During World War I, they wrote "Patriotism has no appeal to us; justice has. Party has no weight with us; principle has."
For their outspoken opposition to Black participation in the war, Owen and Randolph were arrested under the Espionage Act. After the Messenger folded in 1928, Owen moved to Chicago to become managing editor of the Chicago Bee, an African American newspaper. By 1942, Owen owned a public relations firm and was a speechwriter for mostly Republican politicians.
He wrote speeches for presidential candidates Wendell Wilkie in 1940, Thomas Dewey in 1944 and 1948, and Dwight Eisenhower in 1952. He also wrote speeches for President Lyndon B. Johnson in 1964 and 1965.