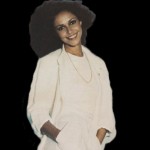 July 22, 1954 Lonette McKee, singer, songwriter, composer, and actress, was born in Detroit, Michigan.
McKee was a child prodigy, writing music, singing, and playing keyboards at the age of seven. At 15, McKee wrote the title song for the film "Quadroon." McKee began her film career in the movie "Sparkle" (1976). Other films include "Which Way is Up?" (1977), "The Cotton Club" (1984), and "Lift" (2001).
McKee won critical acclaim for her Broadway debut in the musical "The First" (1981). She was the first African American to play the role of Julie in "Show Boat" on Broadway and she received a Tony Award nomination for her performance. Her performance in the one-woman show "Lady Day at Emerson's Bar and Grill" also won critical acclaim.
After being voted one of People Magazine's "50 Most Beautiful People in the World" in 1995, McKee did a two year stint on the television soap opera "As the World Turns." McKee serves as an adjunct professor at Centenary College.