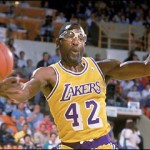 February 27, 1961 James Ager Worthy, hall of fame basketball player, was born in Gastonia, North Carolina.
Worthy was an All-American high school basketball player and after graduating enrolled at the University of North Carolina.
In 1982, Worthy was an All-American and co-College Player of the Year. That year, he also led UNC to the NCAA basketball championship and was named Most Outstanding Player of the tournament. He also earned his Bachelor of Arts degree in radio and television. Worthy was selected by the Los Angeles Lakers in the 1982 NBA Draft and over his 12 season professional career was a seven-time All-Star and three-time NBA champion.
Worthy retired in 1994 and in 2003 was inducted into the Naismith Memorial Basketball Hall of Fame and the College Basketball Hall of Fame. Worthy is Chief Executive Officer of Worthy Enterprises and dedicates significant time and resources to non-profit community organizations through the James Worthy Foundation.