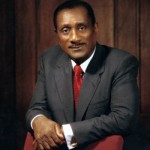 January 19, 1918 John Harold Johnson, publisher and businessman, was born in Arkansas City, Arkansas.
In 1933, Johnson and his family moved to Chicago, Illinois. After graduating from high school, he took a job as an office boy at Supreme Life Insurance Company and within two years had moved up to assistant to the president. In 1942, he used his mother's furniture as collateral for a $500 loan to publish the first edition of Negro Digest which covered African American history, literature, arts, and cultural issues.
Within six months, the magazine had a circulation of 50,000. In 1945, Johnson launched Ebony Magazine which emphasized the achievements of successful African Americans and by 1985 it had a circulation of 2.3 million. In 1950, Johnson launched Tan Magazine and in 1951 Jet Magazine. In addition, Johnson developed a line of cosmetics, purchased three radio stations, and started a book publishing company and television production company. The magazines and his other business ventures were so successful that in 1982 Johnson was the first African American to appear on Forbes Magazine's list of the 400 wealthiest people in the United States. Johnson received the NAACP Spingarn Medal in 1966.
In 1996, President Bill Clinton presented him the Presidential Medal of Freedom, the nation's highest civilian honor, and in 1997 he was inducted into the Junior Achievement National Business Hall of Fame. Johnson was awarded honorary doctorate degrees by several universities, including Harvard University, the University of Southern California, and Wayne State University. He published his autobiography, "Succeeding Against the Odds: The Autobiography of a Great American Businessman," in 1989. Johnson died August 8, 2005 and in 2010 the Johnson College Prep Charter School was opened in Chicago.