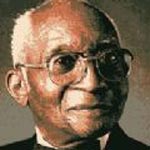 January 18, 2000 Jester Joseph Hairston, songwriter, choral conductor, and film and television actor, died.
Hairston was born July 9, 1901 in Belews Creek, North Carolina. He graduated cum laude from Tufts University in 1928 and studied music at the Juilliard School. In the early stages of his career, he worked as a choir conductor.
In 1956, Hairston wrote the Christmas song "Mary's Boy Child." He also wrote the song "Amen" which he dubbed for the film "Lilies of the Field" (1963). Hairston appeared in over 20 films, including "St. Louis Blues" (1958), "To Kill a Mockingbird" (1962), and "Being John Malkovich" (1999). He also appeared on the television shows "That's My Mama," from 1974 to 1975, and "Amen," from 1986 to 1991.
In his later years, Hairston served as a cultural ambassador for American music, traveling to numerous countries with choral groups that he had assembled. Hairston has a star on the Hollywood Walk of Fame for his contribution to the television industry.