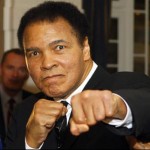 January 17, 1942 Cassius Marcellus Clay, Jr. (Muhammad Ali), hall of fame boxer, was born in Louisville, Kentucky.
Ali began boxing at the age of 12 and went on to win six Kentucky Golden Gloves titles, two national Golden Gloves titles, and the Light Heavyweight Gold medal at the 1960 Rome Summer Olympic Games. Ali turned professional in1960 and won the World Heavyweight Championship for the first time on February 25, 1964.
Ali was stripped of the title and had his boxing license suspended in 1967 for refusing to be drafted into the army. He was quoted as saying "I ain't got no quarrel with them Viet Cong…….They never called me nigger." Ali was allowed to fight again in 1970 and in 1974 regained his title in "The Rumble in the Jungle." He lost the title in 1978, but regained it for the third time seven months later. Ali retired from boxing in 1981 and has devoted himself to humanitarian endeavors around the globe. Ali was named "Fighter of the Year" by Ring Magazine five times, more times than any other fighter, and in 1990 was inducted into the International Boxing Hall of Fame.
In 1997, he was the recipient of the Arthur Ashe Courage Award and in 1999 was named Sportsman of the Century by Sports Illustrated Magazine and Sports Personality of the Century by the British Broadcasting Corporation. In 2001, a biographical film, "Ali," was released. Ali received the Presidential Citizens Medal in 2001 and on November 9, 2005 he received the Presidential Medal of Freedom, the nation's highest civilian honor, from President George W. Bush. On November 19, 2005 the Muhammad Ali Center opened in downtown Louisville. Ali published his autobiography, "The Greatest, My Own Story," in 1975. Other biographies include "Muhammad Ali: The Birth of a Legend, Miami, 1961 – 1964" (2000) and "Muhammad Ali: His Life and Times" (2004).