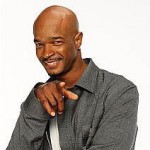 September 4, 1960 Damon Kyle Wayans, comedian, writer and actor, was born in New York City.
Wayans began doing stand-up comedy in 1982 and made his first film appearance in "Beverly Hills Cop" in 1984. During the 1980s, he briefly appeared as a featured performer on the television series "Saturday Night Live" and "Solid Gold."
From 1990 to 1992, he appeared on the TV show "In Living Color," part of a team of performers that were nominated for Emmy Awards all three years. After "in Living Color," he starred in films such as "The Last Boy Scout" (1991), "Major Payne" (1995), and "The Great White Hype" (1996). From 2001 to 2005 he appeared in the series "My Wife and Kids" which earned him four International Press Academy Golden Satellite Awards.