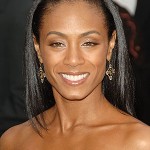 September 18, 1971 Jada Koren Pinkett-Smith, film and television actress, producer, director and business woman, was born in Baltimore, Maryland.
Pinkett-Smith began her career in 1990 but her real success came in 1991 when she starred in the television series "A Different World." She has appeared in more than 20 films including "Menace II Society" (1993), "Set It Off" (1996), "Ali" (2001), and "The Women" (2007). In addition she has created a production company, 100% Woman Productions, her own clothing line, Maja, and in 2004 authored a children's book, "Girls Hold Up This World."
In 1997, she married Will Smith and they founded the Will and Jada Smith Family Foundation which focuses on urban inner city youth and family support. In 2006, Pinkett-Smith donated $1 million to the Baltimore School for the Arts in memory of fellow alumnus Tupac Shakur.