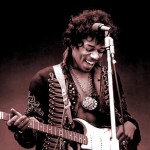 September 18, 1970 James Marshall "Jimi" Hendrix, guitarist, singer and songwriter, died in London, England.
Hendrix was born November 27, 1942 in Seattle, Washington and acquired his first guitar at the age of 15. A self-taught musician, Hendrix moved to New York in 1964 and played with several backing bands for soul, R&B, and blues musicians. In 1966, The Jimi Hendrix Experience was formed and the band enjoyed immediate success in Europe but did not achieve fame in the United States until their 1967 performance at the Monterey Pop Festival.
Most of Hendrix's albums were released posthumously, including "The Cry of Love" (1971), "Crash Landing" (1975), and "Valley of Neptune" (2010). Hendrix is widely considered to be the greatest guitarist in the history of rock music and one of the most influential musicians of his era.
He has been posthumously honored with many awards including induction into the Rock and Roll Hall of Fame in 1992, a star on the Hollywood Walk of Fame in 1994 and in 2006 his debut album, "Are You Experienced" (1967), was added to the United States National Recording Registry. Many books have been written about Hendrix, including "Jimi Hendrix – Electric Gypsy" (1991) and "Jimi Hendrix, Musician" (2003).