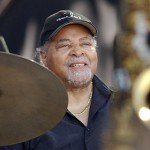 January 20, 1929 Jimmy Wilbur Cobb, jazz drummer, was born in Washington, D.C.
Cobb taught himself to play the drums. From 1958 to 1963, he played with Miles Davis, performing on albums such as "Kind of Blue" (1959) and "Sketches of Spain" (1960). He also worked with many other jazz greats, including Dinah Washington, Cannonball Adderley, Hank Jones, and Nancy Wilson.
Cobb started leading his own bands in the late 1990s. Albums with him as leader include "Only For the Pure of Heart" (1998), "Cobb's Groove" (2003), and "Jazz in the Key of Blue" (2009). Cobb was designated a NEA Jazz Master, the highest honor in jazz, by the National Endowment for the Arts in 2009.