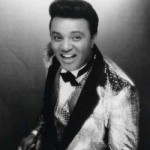 January 21, 1984 Jack Leroy "Jackie" Wilson, singer and performer known as "Mr. Excitement," died.
Wilson was born June 9, 1934 in Detroit, Michigan. He gained early fame as a member of The Dominoes.
In 1957, Wilson began his solo career with the release of "Reet Petite" and over the next 15 years recorded more than 50 hit singles, including "To Be Loved" (1957), "You Better Know It" (1959), "A Woman, A Lover, A Friend" (1960), "Stop Doggin' Around" (1960), "Baby Workout" (1963), and "Higher and Higher" (1969). In 1975, Wilson suffered a massive heart attack which left him in a vegetative state for the remainder of his life. Wilson was posthumously inducted into the Rock and Roll Hall of Fame in 1987.