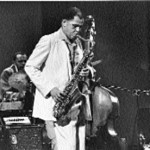 February 27, 1923 Dexter Keith Gordon, jazz tenor saxophonist and actor, was born in Los Angeles, California.
Gordon played the clarinet from the age of 13 before switching to the saxophone at 15.
Between 1940 and 1943, Gordon was a member of the Lionel Hampton Band and in 1943 he made his first recording under his own name. During the first half of the 1960s, Gordon produced some of his most highly regarded work, including "Doin' Alright" (1961) and "A Swingin' Affair" (1962). In 1962, Gordon moved to Europe where he experienced less racism and greater respect for jazz musicians. While there, he produced "Our Man in Paris" (1963), "One Flight Up" (1964), and "Getting Around" (1965).
Gordon returned to the United States in 1976. In 1987, he starred in the movie "Round Midnight" which earned him an Academy Award nomination for Best Actor. In 1978 and 1980, he was voted Jazz Album of the Year for 2 albums and Tenor Saxophonist of the Year by Down Beat Magazine and in 1980 he was inducted into the Down Beat Jazz Hall of Fame. In 1986, Gordon was designated a NEA Jazz Master, the highest honor the nation bestows on a jazz musician, by the National Endowment for the Arts and he died April 25, 1990.