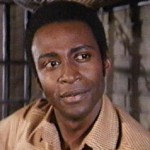 October 22, 1992 Cleavon Jake Little, film and stage actor, died.
Little was born June 1, 1939 in Chickasha, Oklahoma. He earned a Bachelor of Arts Degree in Dramatic Arts from San Diego State University and received a full scholarship to graduate school at Juilliard. After completing Juilliard, he trained at the American Academy of Dramatic Arts. Little made his professional debut in 1967 in the Off- Broadway production of "MacBird."
The following year, Little made his first film and television appearances. In 1969, Little made his Broadway debut in "Jimmy Shine" and in 1971 he won a Tony Award and a Drama Desk Award for Best Actor in a Musical for his performance in "Purlie".
Other Broadway appearances include, "All Over Town" (1975), "The Poison Tree" (1976), and "I'm Not Rappaport" (1988). Film roles include, "Vanishing Point" (1971), "Blazing Saddles" (1974), "Once Bitten" (1985), and "Fletch Lives" (1989).
In 1989, Little won the Emmy Award for Outstanding Guest Actor for a role in an episode of "Dear John." In 1991, Little appeared in the television docu-drama, "Separate But Equal."