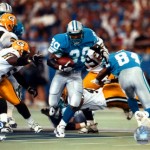 July 16, 1968 Barry David Sanders, hall of fame football player, was born in Wichita, Kansas.
Sanders played college football at Oklahoma State University from 1986 to 1988. In 1988, in what many consider the greatest season in college football history, Sanders led the nation by averaging 7.6 yards per carry and over 200 yards per game. That year he set 34 NCAA record and won the Heisman Trophy as the year's most outstanding player in college football.
Sanders was selected by the Detroit Lions in the 1989 NFL Draft and that year won the NFL Offensive Rookie of the Year Award. Over his 10 season professional career, Sanders was a ten-time All-Pro, two-time Offensive Player of the Year, and the 1997 co-NFL Most Valuable Player. Sanders retired in 1999, stating that the culture of losing in the Lion's organization robbed him of his competitive spirit.
Sanders' autobiography, "Barry Sanders: Now You See Him," was published in 2003. Also in 2003, he was inducted into the College Football Hall of Fame and in 2004 he was inducted into the Pro Football Hall of Fame.