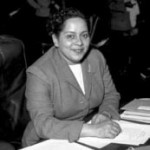 December 17, 1972 Cora Mae Brown, the first African American woman elected to the Michigan State Senate, died.
Brown was born April 16, 1914 in Bessemer, Alabama, but raised in Detroit, Michigan. She graduated from Cass Technical High School in 1931 and earned her Bachelor of Arts degree in sociology from Fisk University in 1935. While at Fisk, Brown participated in demonstrations after the 1933 lynching of a young African American accused of attempted rape. It was the beginning of her life long campaign against injustice and inhumanity.
After graduation, Brown returned to Detroit where she worked as a social worker and from 1941 to 1946 as a policewoman. In 1948, Brown earned her Bachelor of Law degree from Wayne State University School of Law. She passed the bar within two weeks of graduation and entered into private practice.
After two unsuccessful attempts, in 1952 Brown was elected to the Michigan State Senate where she served two terms, leaving office in 1957. While in the Senate, Brown co-sponsored a bill that would revoke or suspend all state and local licenses held by business that discriminated on the basis of race. That bill passed in 1956, the same year that she was selected as the Outstanding Woman Legislator.
In 1957, Brown was appointed special associate general counsel of the United States Postal Service, the first black woman on the post office's legal staff. She held that position until 1960 when she moved to Los Angeles, California. Brown returned to Detroit in 1970 and was appointed to the Michigan Employment Security Commission, the first black woman referee in 35 years. Brown was posthumously inducted into the Michigan Women's Hall of Fame in 1992.