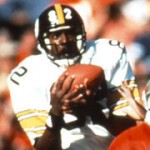 July 15, 1952 Johnny Lee Stallworth, hall of fame football player, was born in Tuscaloosa, Alabama.
Stallworth played college football at Alabama A&M University where he earned a Bachelor of Science degree in Business Administration in 1974. He was selected by the Pittsburgh Steelers in the 1974 NFL Draft and over his 14 season professional career was a four-time Pro Bowl selection and the 1984 NFL Comeback Player of the Year. He was inducted into the Pro Football Hall of Fame in 2002.
After retiring from football, Stallworth earned his Master of Business Administration degree and in 1986 founded Madison Research Corporation, specializing in providing engineering and information technology services to government and commercial clients. He sold the company in 2006 and in 2009 became a part-owner of the Pittsburgh Steelers. The John Stallworth Foundation was established in 1980 to annually provide scholarships to students at Alabama A&M University.