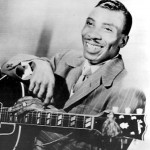 March 16, 1975 Aaron Thibeaux "T-Bone" Walker, blues guitarist, singer and songwriter, died.
Walker was born May 28, 1910 in Linden, Texas and learned his craft as a teenager. He made his debut recordings in 1929 with "Wichita Falls Blues" and "Trinity River Blues." Much of his output was recorded between 1946 and 1948, including "Call It Stormy Monday" (1947).
In 1971, Walker won a Grammy Award for Best Ethnic or Traditional Recording for "Good Feelin'" and in 1985 he was posthumously given a Grammy Lifetime Achievement Award. Walker was posthumously inducted into the Blues Hall of Fame in 1980 and into the Rock and Roll Hall of Fame in 1987. Chuck Berry and Jimi Hendrix acknowledged that they were greatly influenced by the guitar playing of Walker.
---