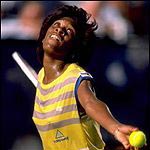 November 16, 1963 Zina Lynna Garrison, professional tennis player, was born in Houston, Texas.
Garrison started playing tennis at the age of 10 and entered her first tournament at the age of 12. In 1981, she won the Wimbledon and US Open Junior titles and was ranked the World Number 1 junior player. Garrison turned professional in 1982 and over her 14 years on the professional tour won 14 top level singles titles and 20 doubles titles.
At the 1988 Seoul Olympic Games, she won a Gold medal in the women's doubles and a Bronze medal in the women's singles. Garrison retired in 1996 and was the Captain for the U. S. Federation Cup team. She also led the U. S. women's tennis team at the 2008 Beijing Olympic Games.
In 1988 she founded the Zina Garrison Foundation for the Homeless and in 1992 the Zina Garrison All-Court Tennis Program which supports inner-city tennis in Houston.