February 3, 1979 Aaron Douglas, painter and educator, died.
Douglas was born May 26, 1899 in Topeka, Kansas. He developed an interest in art during his childhood. Douglas earned his Bachelor of Fine Arts degree from the University of Nebraska in 1922.
In 1925, he moved to New York City where he produced illustrations for The Crisis and Opportunity magazines as well as the books of prominent black writers. Douglas created the "Symbolic Negro History" mural at Fisk University in 1930 and the "Aspects of Negro Life" mural at the Schomburg Center for Research in Black Culture in 1934.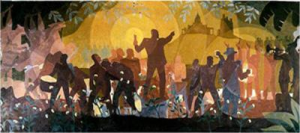 In 1939, he moved to Nashville, Tennessee where he founded the art department at Fisk and taught for 27 years. He earned his Master of Arts degree from Columbia Teachers College in 1944. Douglas has been called "the father of African American art." His works are in the collections of the Corcoran Gallery of Art, Art Institute of Chicago, and the Cleveland Museum of Art.
For more on Aaron Douglas, click here