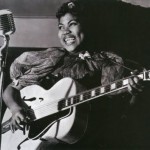 October 9, 1973 Rosetta Tharpe, gospel singer and songwriter, died.
Tharpe was born March 20, 1915 in Cotton Plant, Arkansas. She began performing at the age of 4, accompanying her mother at tent revivals across the South. Tharpe made her recording debut in 1938 and soon became the first great recording star of gospel music.
Her 1944 recording "Strange Things Happening Every Day" was the first gospel song to make Billboard's "race records" Top Ten. Tharpe was so popular that in 1951 she attracted 25,000 paying customers to her wedding, which was followed by a performance.
In 2007, Tharpe was posthumously inducted into the Blues Hall of Fame and that same year her biography, "Shout, Sister, Shout!: The Untold Story of Rock-and-Roll Trailblazer Sister Rosetta Tharpe," was published. A number of musicians, including Elvis Presley, Jerry Lee Lewis, Isaac Hayes, and Aretha Franklin, have identified her as an important influence on their music.