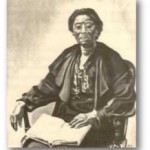 March 16, 1958 Virginia Estelle Randolph, educator and pioneer of vocational training, died.
Randolph was born June 8, 1874 in Richmond, Virginia. She began her career as a teacher when she opened the one room Mountain Road School in Henrico County. In addition to academics, she taught her students woodworking, sewing, cooking, and gardening.
In 1908, Randolph was named the United State's first "Jeanes Supervising Industrial Teacher," recipient of funding to maintain and assist rural schools for African Americans in the South. As the overseer of 23 elementary schools, Randolph developed the first in-service training program for black teachers. She also authored the "Henrico Plan" which became a reference book for southern schools receiving funding from the Jeanes Foundation. Randolph's teaching philosophy and techniques were later adopted by Great Britain in their African colonies.
In 1908, Randolph founded the first Arbor Day Program in Virginia. She and her students planted 12 Sycamore trees. In 1976, the trees still standing were named the first notable trees in Virginia by the National Park Service. Randolph retired in 1949 and in 1954 the Virginia Randolph Foundation was formed to annually award scholarships to Henrico County high school students who will be attending college.
In 1976, the Virginia Randolph Home Economics Cottage was named a National Historic Landmark by the National Park Service. Virginia Randolph Community High School in Glen Allen, Virginia is named in her honor.