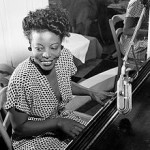 May 28, 1981 Mary Lou Williams, jazz pianist, composer, and arranger, died.
Born Mary Elfrieda Scruggs on May 8, 1910 in Atlanta, Georgia, Williams taught herself to play the piano at a young age and became a professional musician in her teens. In 1925, she played with Duke Ellington and his band the Washingtonians. In 1930, Williams recorded "Drag 'Em" and "Night Life" as piano solos and the records sold well, catapulting her to national fame.
By the end of the 1930s, Williams had become one of the most sought after composers of the era, composing and arranging for Ellington and Benny Goodman. By the mid-1940s, Williams had moved to New York and started a weekly radio show called "Mary Lou Williams Piano Workshop" and began mentoring and collaborating with musicians such as Dizzy Gillespie and Thelonious Monk. After a two year stint in Europe, by 1954 Williams was mainly devoted to the Bel Canto Foundation, an effort initiated by her to help addicted musicians return to performing.
Throughout the 1960s, Williams' composing focused on sacred music. One of her masses, "Music for Peace," was choreographed and performed by the Alvin Ailey Dance Company. Over her career, Williams wrote hundreds of compositions and arrangements and recorded more than 100 records. From 1977 to her death, she was artist-in-residence at Duke University and in 1983 the university established the Mary Lou Williams Center for Black Culture.
Since 1966, The Kennedy Center has held an annual Mary Lou Williams Women in Jazz Festival and in 1990 Williams was posthumously inducted into the Down Beat Jazz Hall of Fame.
---