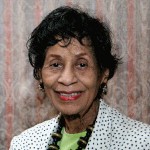 January 30, 1919 Margaret Bush Wilson, lawyer and activist, was born in St. Louis, Missouri.
Wilson earned her Bachelor of Science degree in economics from Talladega College in 1939 and her law degree from the Lincoln University of Missouri School of Law. After passing the bar, she was the second woman of color admitted to practice in Missouri.
Wilson served as consul to the Black Real Estate Brokers Association and was instrumental in the 1948 Shelly v. Kraemer Supreme Court ruling that held housing covenants unconstitutional. In 1962, Wilson became president of the Missouri NAACP and in 1975 she became chair of the NAACP National Board of Directors, the first woman to hold that position. She served nine terms in that capacity. She was also board chair of St. Augustine's College and Talladega College. Wilson died August 11, 2009.