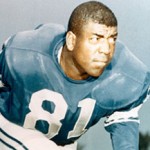 January 29, 2002 Richard (Dick) "Night Train" Lane, hall of fame football player, died.
Lane was born April 16, 1928 in Austin, Texas. He made his professional football debut with the Los Angeles Rams as a defensive back in 1952. In his rookie season, he set the NFL single season record for interceptions with 14 in 12 games, a record that stands to this day even though the season has been expanded to 16 games.
From 1960 to 1965, Lane played with the Detroit Lions and over his 14-season professional football career was a seven-time Pro Bowl selection. In 1974, Lane was inducted into the Pro Football Hall of Fame and in 1999 was ranked 19th on The Sporting News' list of the 100 Greatest Football Players. Lane published his autobiography, "Night Train Lane: The Life of NFL Hall of Famer Richard 'Night Train' Lane," in 2001.