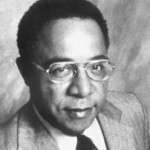 February 10, 1992 Alexander Murray Palmer Haley, author of "Roots: The Saga of an American Family," died.
Haley was born August 11, 1921 in Ithaca, New York. In 1939, he enlisted in the military and began a 20 year career with the Coast Guard where he rose to the rank of Chief Petty Officer. After retiring from the Coast Guard, Haley began his writing career and eventually became a Senior Editor for Reader's Digest.
During the 1960s, Haley was responsible for some of Playboy Magazine's most notable interviews, including interviews with Miles Davis, Martin Luther King, Jr., and Muhammad Ali. In 1965, he published his first book, "The Autobiography of Malcolm X." In 1998, Time Magazine named that book one of the ten most influential nonfiction books of the 20th century. "Roots" was published in 1976 and eventually published in 37 languages and won a special award from the Pulitzer Board.
The next year it was adapted into a record breaking television mini-series. Haley was awarded the NAACP Spingarn Medal in 1977. Haley's final book, "Queen: The Story of an American Family," was published posthumously and in 1993 made into a movie, "Alex Haley's Queen." In 1999, the United States Coast Guard honored Haley by naming the cutter Alex Haley after him. In addition, the main gallery at the Coast Guard Training Base at Petaluma, California is named Haley Hall.
---