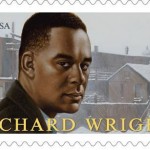 September 4, 1908 Richard Nathaniel Wright, author, was born in Roxie, Mississippi.
At the age of 15, Wright penned his first story, "The Voodoo of Hell's Half-Acre" which was published in the local Black paper.
In 1937, Wright won first prize from Story Magazine for his short story "Fire and Cloud" and in 1938 gained national attention for his collection of four short stories, "Uncle Tom's Children". In 1940, his first novel, "Native Son", was selected by the Book of the Month Club as its first book by an African American. Wright received the NAACP's Spingarn Medal in 1941.
In 1945, Wright's semi-autobiographical "Black Boy" was published. In 1946, Wright became a permanent American expatriate when he moved to Paris, France where he died November 28, 1960. In 2008, Julia Wright, Wright's daughter, published his unfinished novel "A Father's Law". In 2009, the United States Postal Service issued a commemorative postage stamp in his honor.