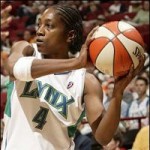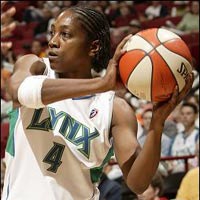 July 19, 1964 Teresa Edwards, hall of fame basketball player, was born in Cairo, Georgia.
Edwards played high school basketball and in 1982 was the Georgia High School Player of the Year. She played college basketball at the University of Georgia where she was a two-time All-American. After earning her degree in 1990, she played for nine seasons in Italy, Japan, Spain, and France.
Edwards also became the first female basketball player to play in five Olympic Games, winning Gold medals at the 1984 Los Angeles Games, the 1988 Seoul Games, 1996 Atlanta Games, 2000 Sydney Games, and a Bronze medal at the 1992 Barcelona Games. She holds the distinction of being the youngest and oldest woman Gold medal winner in women's basketball.
In 1996, Edwards was named the Sportswoman of the Year in the team category by the Women's Sports Foundation. She was inducted into the Women's Basketball Hall of Fame in 2010 and the Naismith Memorial Basketball Hall of Fame in 2011. She is currently director of player personnel for the Tulsa Shock in the WNBA.