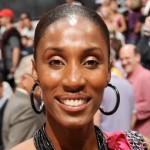 July 7, 1972 Lisa Deshaun Leslie, retired women's basketball player, was born in Gardena, California.
By her senior year in high school, Leslie was considered the top female basketball player in the country. While playing for the University of Southern California, Leslie was named the National Freshman of the Year in 1991 and the National Player of the Year in 1994. She was also a 3-time All-American selection. She graduated from USC with a bachelor's degree in communications and later earned a master's degree in business administration from the University of Phoenix.
Leslie was selected in the 1997 WNBA Draft by the Los Angeles Sparks. She played all of her 11 season professional career with the Sparks and was an eight-time All-Star, three-time WNBA Most Valuable Player, and two-time Defensive Player of the Year. In 2001, Leslie was named Sportswoman of the Year by the Women's Sports Foundation. In 2003, Leslie became the first woman to dunk in a WNBA game.
Leslie has also participated on four Gold medal winning women's basketball Olympic teams, only the second female basketball player to earn that many gold medals. Leslie is currently a model and an aspiring actress.