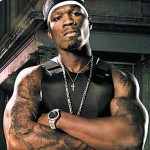 July 6, 1975 Curtis James Jackson, III (50 Cent), rapper and actor, was born in Queens, New York.
Jackson's first official appearance was on a song titled "React" with the group Onyx in 1998. In 2000, he released the album, "Power of the Dollar." Jackson's breakthrough occurred with the 2003 release of the album "Get Rich or Die Tryin'." That album debuted at number one on the Billboard charts and sold 872,000 copies in the first four days and has sold over 15 million copies worldwide.
In 2005, Jackson released "The Massacre" which sold 1.14 million copies in the first four days and has sold more than 11 million copies in total. It also resulted in Jackson becoming the first solo artist to have three singles in the Billboard top five in the same week. Jackson's other albums are "Curtis" (2007), "Before I Self Destruct" (2009), and "Black Magic" (2010).
Jackson has been nominated for 15 Grammy Awards and in 2010 won the award for Best Rap Performance by A Duo or Group for "Crack a Bottle" with Eminem and Dr. Dre. Billboard Magazine named Jackson the Number One Rap Song Artist of the 2000 – 2009 decade. Jackson has also appeared in films, including "Get Rich or Die Tryin'" (2005), "Home of the Brave" (2006), and "Righteous Kill" (2008). In 2005, Jackson published his autobiography, "From Pieces to Weight: Once Upon a Time in Southside Queens."