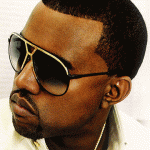 June 8, 1977 Kanye Omari West, rapper and record producer, was born in Atlanta, Georgia.
West attended the American Academy of Art and Chicago State University but dropped out to focus on his music career. He first gained recognition for producing hit singles for artists such as Jay-Z, Common, Alicia Keys, and John Legend. In 2004, West released his debut album, "The College Dropout," which contained the singles "Through the Wire" and "Jesus Walks" and went triple platinum.
His second album, "Late Registration," was released in 2005 and earned eight Grammy nominations and also went triple platinum. His other albums are "Graduation" (2007) and "808s & Heartbreak" (2008). West has been nominated for 36 Grammy Awards and won 14, including Best Rap Album in 2005, 2006, and 2008. West also runs his own record label, GOOD Music.
In 2003, West founded the Kanye West Foundation in Chicago to focus on helping Latino and African American children stay in school. He also has participated in many fundraisers and benefit concerts.
---