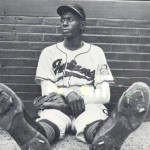 June 8, 1982 Leroy Robert "Satchel" Paige, Negro League and Major League pitcher, died.
Paige was born July 7, 1906 in Mobile, Alabama. At the age of 12, he was committed to the Industrial School for Negro Children where he developed his pitching skills. In 1926, Paige was signed by the Chattanooga White Sox of the Negro Leagues. In addition to the Negro Leagues, Paige pitched in Cuba, Mexico, and the Dominican Republic. During that time, he pitched against many white Major League stars, including Hall of Famers Dizzy Dean, who called Paige "the pitcher with the greatest stuff I ever saw," and Joe DiMaggio, who said that Paige was the best pitcher he had ever faced.
During World War II, when many of the best Major League players were in the service, Paige was the highest paid athlete in the world. In 1948 at the age of 42, Paige became the oldest player ever to debut in the Major Leagues, where he pitched until 1953. On September 25, 1965 at the age of 59, Paige pitched 3 innings of shutout baseball against the Boston Red Sox. Paige finally quit pitching in 1967.
Paige was inducted into the Baseball Hall of Fame in 1971, the first player from the Negro Leagues to be inducted. In 1981, a made-for-television movie, "Don't Look Back," of his life was aired and in 2009 his biography, "The Life and Times of an American Legend," was published. In 2006, a statue of Paige was unveiled in Cooperstown, New York commemorating the contributions of the Negro Leagues to baseball.
---