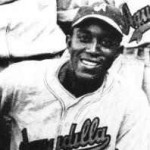 March 13, 1995 Leon Day, pitcher in the Negro Baseball League, died.
Day was born October 30, 1916 in Alexandria, Virginia and made his professional debut in 1934. Day was one of the top pitchers in the Negro Leagues from the mid-1930s through the 1940s. From 1935 to 1946, he appeared in a record seven East-West All-Star Games and in 1942 he set a Negro League record by striking out 18 batters in a single game.
During World War II, Day served in the United States Army. Day retired from baseball in 1955 and was inducted into the Baseball Hall of Fame in 1995.