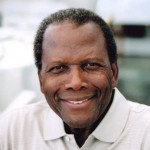 February 20, 1927 Sidney Poitier, actor, director, author, and diplomat, was born in Miami, Florida.
At 17, Poitier moved to New York City and joined the American Negro Theater. He made his film debut in "No Way Out" (1950) and his breakout role was in "Blackboard Jungle" (1955).
In 1959, Poitier acted in the first production of "A Raisin in the Sun" on Broadway and starred in the film version in 1961. In 1963, Poitier became the first black actor to win the Academy Award for Best Actor for his role in "Lilies of the Field." Poitier has also directed a number of films, including "Buck and the Preacher" (1972), "Stir Crazy" (1980), and "Ghost Dad" (1990). He has also written three autobiographies, "This Life" (1980), "The Measure of a Man: A Spiritual Autobiography" (2000), and "Life Beyond Measure – Letters to my Great-Granddaughter" (2008).
In 1997, Poitier was appointed ambassador of the Bahamas to Japan. In 2002, Poitier received an Honorary Award from the Academy of Motion Pictures Arts and Sciences "in recognition of his remarkable accomplishments as an artist and as a human being." In 2009, he was awarded the Presidential Medal of Freedom, America's highest civilian honor, by President Barack Obama. The documentary "Sidney Poitier: an Outsider in Hollywood" was released in 2008.