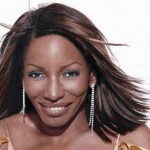 March 22, 1957 Stephanie Dorthea Mills, Grammy Award winning singer and Broadway star, was born in Brooklyn, New York.
Mills appeared in her first play at the age of nine and two years later won Amateur Night at the Apollo Theater a record six times. Mills made her Broadway debut in 1968 in the musical "Maggie Flynn" and in 1973 she recorded her first single, "I Knew It Was Love." Mills career took off in 1974 when she portrayed Dorothy in "The Wiz," for which she received a nomination for the Drama Desk Award for Outstanding Actress – Musical. Also in 1974, Mills released her debut album, "Movin' In the Right Direction."
In 1979, Mills had her first gold album with "What Cha Gonna Do with My Lovin" and that was followed by "Sweet Sensation" (1980). That album featured "Never Knew Love like This Before," which earned Mills a Grammy Award for Best R&B Vocal Performance – Female. These albums were followed by "Stephanie" (1981) and "Merciless" (1983), both of which were nominated for Grammy Awards for Best R&B Vocal Performance – Female. Other albums include "If I Were Your Woman" (1987) and "Home" (1989), both of which reached platinum status.
In 1992, Mills took a break from recording to care for her son. She returned in 2000 and in 2004 released "Born for This" and in 2010 "Breathless." She is currently touring and performing.
---