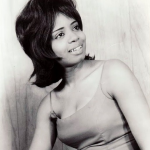 July 3, 1940 Fontella Bass, soul singer, was born in St. Louis, Missouri.
Bass showed great musical talent at an early age. At the age of five, she was providing piano accompaniment for her grandmother's singing and by the time she was nine she was accompanying her mother on gospel tours throughout the South. At 17, Bass started her professional career, working in clubs in her hometown.
In 1961, she was hired to back Little Milton on piano for concerts and recordings. In 1965, she signed with Chess Records and recorded "Rescue Me," which sold over a million copies. Other more moderate hits by Bass include "Recovery," "I Can't Rest," and "You'll Never Know." In 1972, Bass retired from music to concentrate on raising her family. However in 1990, she returned with a gospel album with her mother and brother titled "Promises: A Family Portrait of Faith."
Her 1995 album "No Ways Tired" was nominated for the Best Traditional Soul Gospel Grammy Award. Her last album, "Travelin'," was recorded in 2001. Bass was inducted into the St. Louis Walk of Fame in 2000.