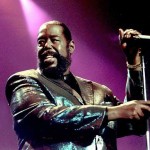 July 4, 2003 Barry White, singer, songwriter, and record producer, died.
White was born Barrence Eugene Carter on September 12, 1944 in Galveston, Texas. He began his musical career in the early 1960s in singing groups before going out on his own in the mid-1960s. He got his big break producing a female group he had discovered called Love Unlimited. Their 1971 release "Girl's Point of View" sold more than 1 million copies.
White's first album, "I've Got So Much to Give," was released in 1973 and included the single "I'm Gonna Love You Just a Little More Baby" which rose to number one on the R&B charts. Other hits followed, including "Never, Never Gonna Give You Up" (1974), "You're The First, the Last, My Everything" (1975), "It's Ecstasy When You Lay Down Next to Me" (1977), and "Your Sweetness is My Weakness" (1978). Although White's success on the charts slowed during the 1980s and early 1990s, he maintained a loyal following.
White returned to the charts with the release of "The Icon Is Love" (1994) and "Staying Power" (1999), which won Grammy Awards for Best Male R&B Vocal Performance and Best Traditional R&B Vocal Performance. Over his career, White won five Grammy Awards and sold more than 100 million records. In 2004, he was posthumously inducted into the Dance Music Hall of Fame.