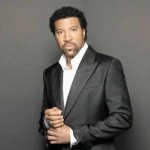 June 20, 1949 Lionel Brockman Richie, singer, songwriter and record producer, was born in Tuskegee, Alabama.
Richie went to Tuskegee Institute on a tennis scholarship and graduated in 1974 with a bachelor's degree in economics. In 1968, he became a singer and saxophonist with the Commodores who became popular with albums such as "Natural High" (1978) and "Midnight Magic" (1979). By the late 1970s, Richie had begun to accept songwriting commissions from other artists, including "Lady" for Kenny Rogers which hit number one in 1980.
In 1982, Richie began his solo career with his self-titled debut album which included the number one hit "Truly" and sold more than 4 million copies. His follow up album, "Can't Slow Down" (1983), sold more than 8 million copies and won the Grammy Award for Album of the Year. In 1985, Richie wrote and performed "Say You, Say Me" for the film "White Nights." The song won the Academy Award for Best Original Song. Also in 1985, he co-wrote with Michael Jackson the mega-hit "We Are the World."
In 2008, he received the George and Ira Gershwin Lifetime Achievement Award. Richie has sold, solo or as a group member, more than 100 million records and he has been nominated for 18 Grammy Awards and won four.
---