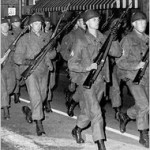 February 8, 1968 The Orangeburg Massacre occurred in Orangeburg, South Carolina.
Police fired into a crowd of approximately 200 mostly students who were protesting segregation at a local bowling alley.
Samuel Hammond, Henry Smith, students at South Carolina State University, and Delano Middleton, a high school student, were killed and 27 other protesters were injured. Most of the people shot were shot in the back. Nine police officers were tried for using excessive force and all were acquitted. The only person convicted and imprisoned for the incident was Cleveland Sellers, an activist with the Student Nonviolent Coordinating Committee, who was convicted of inciting a riot and served seven months in prison.
Several books have been written about the incident, including "The Orangeburg Massacre" (1996) and "Whitewash: A Southern Journey through Music, Mayhem & Murder" (2007).