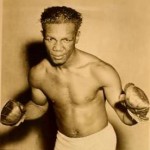 February 10, 1912 Albert Chalky Wright, hall of fame boxer, was born in Wilcox, Arizona.
Wright began boxing professionally in 1928, two weeks after turning 16.
He fought for many years before winning the World Featherweight Championship in September, 1941. He successfully defended the title once before losing it in November, 1942. Wright retired in 1948 with a record of 160 wins, 43 losses and 18 draws. After retiring, Wright served as a chauffeur and bodyguard for Mae West. He died August 12, 1957 and was posthumously inducted into the International Boxing Hall of Fame in 1997.