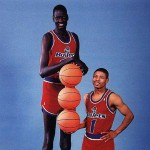 June 19, 2010 Manute Bol, former basketball player and human rights activist, died.
Bol was born October 16, 1962 in Sudan. He started playing basketball in 1978 and was selected by the Washington Bullets in the 1985 NBA Draft. Bol was one of the tallest players to play in the NBA and over his ten year career was known for his shot blocking skills. He is the only player in NBA history to have more blocked shots than points scored.
While he was playing, Bol established the Ring True Foundation to support various causes in Sudan. He gave most of his NBA earnings to this cause. After his death, tributes to his basketball career and charitable works came from around the world, including a salute on the floor of the United States Senate.
---