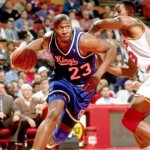 May 15, 2009 Wayman Lawrence Tisdale, professional basketball player and jazz bass guitarist, died.
Tisdale was born June 9, 1964 in Fort Worth, Texas and played guitar at his father's church. As a college player at the University of Oklahoma, Tisdale was the first player in history to be named a first-team All American in his freshman, sophomore, and junior seasons. In 1984 he won a Gold medal at the Los Angeles Olympic Games as a member of the United States men's basketball team.
Tisdale was selected by the Indiana Pacers in the 1985 NBA Draft and played for 12 seasons before retiring in 1997 to focus on his music career. Tisdale released his debut album, "Power Forward," in 1995. That was followed by seven other albums, including "Face to Face" (2001), "Hang Time" (2004), and "Rebound" (2008). After having one of his legs amputated due to bone cancer, Tisdale started the Wayman Tisdale Foundation to raise funds to help amputees with the prosthetic process. Tisdale was inducted into the National Collegiate Basketball Hall of Fame in 2009.
---