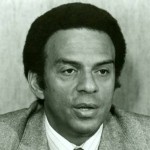 March 12, 1932 Andrew Jackson Young, pastor, politician, diplomat and civil rights leader, was born in New Orleans, Louisiana.
Young earned his Bachelor of Science Degree in Pre-Dentistry at Howard University in 1951 and a Bachelor of Divinity degree from Hartford Seminary in 1955.
In 1960, he joined the Southern Christian Leadership Conference and in 1964 was named executive director of the organization. In that capacity, he was a key strategist and negotiator during the Civil Rights Campaigns in Birmingham, St. Augustine, and Selma that resulted in the passage of the Civil Rights and Voting Rights Acts. In 1972, he won election to the United States House of Representatives where he served until 1977.
That year, he was appointed Ambassador to the United Nations by President Jimmy Carter, the first African American to serve in that position. In 1981, Young was elected Mayor of Atlanta and served until 1990. During that time, he expanded programs for including minority-owned businesses in city contracts, hosted the 1988 Democratic National Convention, and led the effort to host the 1996 Olympic Games.
Young authored "A Way Out of No Way: The Spiritual Memoirs of Andrew Young" in 1994 and "An Easy Burden: The Civil Rights Movement and the Transformation of America" in 1996. Young is currently co-chairman of Good Works International, a consulting firm "offering international market access and political risk analysis in key emerging markets within Africa and the Caribbean." Young received the NAACP Spingarn Medal in 1979, the Presidential Medal of Freedom from President Jimmy Carter in 1980, and more than 45 honorary degrees.
The Andrew Young School of Policy Studies at Georgia State University and the Andrew Young Center for International Affairs at Morehouse College are named in his honor.