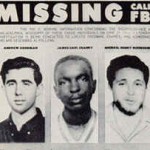 June 21, 1964 James Chaney, Andrew Goodman and Michael Schwerner, civil rights activist, were murdered near Philadelphia, Mississippi while trying to investigate the burning of a church that supported civil rights activity.
The FBI discovered their bodies on August 4. While searching for the three men's bodies, the FBI also discovered the bodies of at least seven other black men whose disappearances over the past several years had not attracted attention outside of their local communities.
The FBI arrested 18 men but Mississippi officials refused to prosecute the men, therefore the United States Justice Department charged them with conspiring to deprive the three of their civil rights. Seven of the men were convicted and sentenced to 3 to 10 years. None served more than 6 years. Several film dramatizations have been made of the events, including "Mississippi Burning" (1988) and "Murder in Mississippi" (1990).